Garrett M. Levin, DVM
Diplomate, American College of Veterinary Surgeons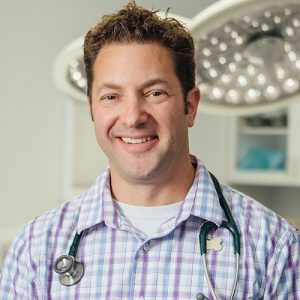 Originally from California, Dr. Levin earned his Bachelor of Science in Animal Science from the University of California at Davis in 1994 and received his Doctor of Veterinary Medicine from Ross University, School of Veterinary Medicine in 1999. Dr. Levin completed a one-year small animal medicine and surgery internship in 2000 at The Animal Medical Center in New York. Following his internship, he completed a three-year comprehensive residency in small animal orthopedics, soft tissue, and neurosurgery in 2003.
Since his residency, Dr. Levin has served as Staff Surgeon at small animal referral and emergency hospitals in California and New Jersey, as well as Chief of Surgery in Massachusetts and Vermont. Dr. Levin has received board certification and is a Diplomate of the American College of Veterinary Surgeons. His areas of special interest include orthopedic surgery and soft tissue surgery. Dr. Levin is trained in the Tibial Plateau Leveling Osteotomy (TPLO) surgical procedure for the treatment of cranial cruciate ligament rupture and has performed thousands of these procedures in his career.